War on Terror
It's us against the Muslim terrorists... and the lawyers and the liberals.
Major Muslim terror attacks on U.S. soil since 1993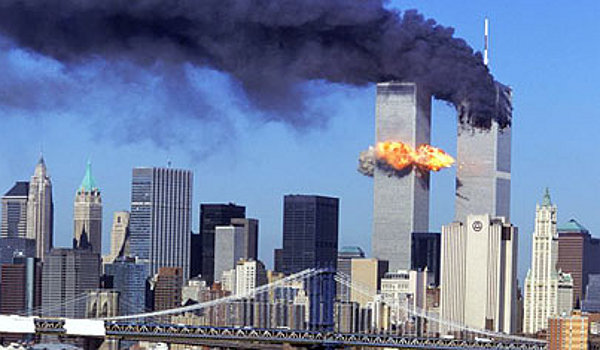 On September 11, 2001, 19 al-Qaeda terrorists hijacked four commercial passenger jet airliners. Two of them were flown into the twin towers of the World Trade Center, pictured above, killing 2,753 people. Another was flown into the Pentagon, killing 184. The fourth airplane was meant to hit the White House but crashed into a Pennsylvania field, killing the 40 people aboard, after the passengers bravely attacked and overwhelmed the terrorists.
Legal issues
"Americans would never consider the release of a psychopathic killer, but some are reluctant to view the terrorists as a dangerous threat. Recently, Ahmed Ghailani, who became a celebrity in al-Qaeda circles after the bombings, was acquitted by a federal jury of 224 counts of murder for the bombings of the U.S. embassies in Kenya and Tanzania. Why is it that a serial killer who is a threat to American society would never be released, yet the legal system finds ways of releasing terrorists who are also a threat and often exhibit traits similar to those of pathological killers?"
"The first court conviction of a Guantanamo Bay detainee did little to push President Barack Obama closer to shuttering the island prison, making it increasingly likely his campaign promise will remain unmet by the time his current term expires."
"After 9/11, "the wall" was formally eradicated by Congress and the Court of Appeals. However, there are still barriers today, walls that are less pronounced."
"A military jury on Sunday gave teen terrorist Omar Khadr a 40-year prison sentence for killing an American commando in Afghanistan, but the sentence was merely symbolic — the United States already had agreed to limit Khadr's prison time to eight years, and Canada last week said it would allow Khadr to serve the bulk of his sentence there."
"The Obama administration has shelved the planned prosecution of Abd al-Rahim al-Nashiri, the alleged coordinator of the Oct. 2000 suicide attack on the USS Cole in Yemen, according to a court filing."
"Lynne Stewart is a terrorist and a traitor and ideally she should have received the death penalty. That wasn't the way the pantywaist Clinton-appointed Judge John G. Koeltl saw it in 2006 when he sentenced the radical anti-American lawyer who became a willing participant in an Islamic terrorist plot to a mere 28 months in prison-a fraction of the 30-year term the government sought. But things have changed. The septuagenarian Stewart has been resentenced, this time to a 10-year prison term."
"The CIA and Justice Department are fighting over a secret investigation into a controversial program by legal supporters of Islamist terrorists held at Guantanamo Bay that involved photographing CIA interrogators and showing the pictures to prisoners, an effort CIA officials say threatens the officers' lives."
"President Obama's advisers are nearing a recommendation that Khalid Sheik Mohammed, the self-proclaimed mastermind of the Sept. 11, 2001, attacks, be prosecuted in a military tribunal, administration officials said, a step that would reverse Attorney General Eric H. Holder Jr.'s plan to try him in civilian court in New York City."
"The Justice Department is closing the books on its probe of the Bush administration lawyers whose legal memorandums authorized the CIA to waterboard terrorism suspects..."
"The White House ordered the Justice Department Thursday night to consider other places to try the 9/11 terror suspects after a wave of opposition to holding the trial in lower Manhattan."
"Senate Republicans are demanding to know who read the underwear bomber suspect Miranda rights and why Umar Abdulmutallab is being tried in a civilian criminal court."
Political correctness run amok
"A new promotional video released by the Department of Homeland Security characterizes white middle class Americans as the most likely terrorists, as Big Sis continues its relentless drive to cement the myth that mad bombers are hiding around every corner, when in reality Americans are just as likely to be killed by lightning strikes or peanut allergies."
"As the tenth anniversary of the 9/11 terrorist attacks approaches, the United Nations is no closer to reaching a universal definition of terrorism than it was in 2001 – or indeed than it was five years before then, when negotiations first began on drafting a comprehensive convention on international terrorism."
"In 2005, leaders in Portland, Oregon, angry at the Bush administration's conduct of the war on terror, voted not to allow city law enforcement officers to participate in a key anti-terror initiative, the FBI's Joint Terrorism Task Force. On Friday, that task force helped prevent what could have been a horrific terrorist attack in Portland."
"There was nothing wrong with the film and ABC knows it. In fact, the network planned on airing it annually in memory of the victims on 9/11. Unfortunately, political intimidation and censorship is still alive and well in America."
"Contrary to what some news media have stated, it is not completely clear that Shahzad always maintained legal status. In addition, there are aspects of his immigration history that indicate his possible awareness of how to work our system..."
"Two new documents laying out the Obama administration's defense and homeland security strategy over the next four years describe the nation's terrorist enemies in a number of ways but fail to mention the words Islam, Islamic or Islamist."
"...the Administration has tried to break from its predecessors on several big antiterror issues, and it is on those that it is suffering the humiliation of having to walk back from its own righteous declarations."
"American officials won't say why he was let go and have not released a photograph of him. Zakir wasted little time rekindling his relationship with the Taliban, especially its inner shura, or leadership council, based in Pakistan."
"...Obama Justice Department has quietly ordered FBI agents to read Miranda warnings to high value detainees captured and held at U.S. detention facilities in Afghanistan..." (Video of Obama in September 2008 saying this shouldn't happen)
Two-part ABC miniseries which Democrats attempted to prevent from being broadcast, and which political pressure from Democrats and the Clintons has prevented from being released on DVD. The miniseries is presented here on YouTube in 24 videos.
Security issues
"Why was Faisal Shahzad permitted to board a flight for Dubai some 24 hours after investigators of the Times Square terrorism case learned he might be connected to the attempted bombing?"
The "torture" known as enhanced interrogation
"Officials say CIA interrogators in secret overseas prisons developed the first strands of information that ultimately led to the killing of Osama bin Laden. Current and former U.S. officials say that Khalid Sheikh Mohammed, the mastermind of the Sept. 11, 2001 terrorist attacks, provided the nom de guerre of one of bin Laden's most trusted aides. The CIA got similar information from Mohammed's successor, Abu Faraj al-Libi. Both were subjected to harsh interrogation tactics inside CIA prisons in Poland and Romania."
"These scenes provide previously unpublicized details about the transformation of the man known to U.S. officials as KSM from an avowed and truculent enemy of the United States into what the CIA called its "preeminent source" on al-Qaeda. This reversal occurred after Mohammed was subjected to simulated drowning and prolonged sleep deprivation, among other harsh interrogation techniques."
"In releasing highly classified documents on the CIA interrogation program last week, President Obama declared that the techniques used to question captured terrorists "did not make us safer." This is patently false. The proof is in the memos Obama made public..."
Traitors
"A Queens man tied to a suspected al Qaeda-trained terrorist may have been trying to kill himself when he crashed his car into the back of another at the Bronx-Whitestone Bridge..."
"Pakistani police say they plan to ask a court to charge five Americans arrested in early December with terrorism, and will seek life imprisonment sentences against them. The young Muslim men, who are from the Washington, D.C., area, were captured in the eastern Pakistani city of Sargodha. The case spurred fears that Westerners are traveling to Pakistan to join militant groups."
"A Muslim army psychiatrist opposed to the wars in Iraq and Afghanistan opened fire on fellow soldiers at the world's largest military base yesterday, killing 13 people and wounding at least 30."
"The Justice Department recently questioned military defense attorneys at Guantanamo Bay about whether photographs of CIA personnel, including covert officers, were unlawfully provided to detainees charged with organizing the Sept. 11, 2001, attacks, according to sources familiar with the investigation. Investigators are looking into allegations that laws protecting classified information were breached when three lawyers showed their clients the photographs, the sources said."
Advertisements
Thanks for the link!
Recent comments
Synchronicity and Trump
12/29/17 -
My how time flies...
4/29/16 -
So why does...
4/5/16 -
your country is...
3/30/16 -
Looks as though...
3/23/16 -
Welcome back!...
3/23/16 -
Perhaps famed...
3/22/16 -
Welcome back...
3/22/16 -
JP's attitude...
3/22/16 -
Welcome back JP!...
3/22/16 -
Really missed...
3/22/16 -
Good to see...
3/21/16 -
Well, first...
Islam
10/9/15 -
No Peace!!!
May Day
4/23/15 -
Firstly...
Barack Obama—his background
12/16/14 -
Just a heads-up...
Two-faced RINOs
12/09/14 -
Would you please...
There are no words to describe my rage
5/26/14 -
Barry did not fail...
5/24/14 -
Yes, Obama has...
5/24/14 -
Welcome to the...
5/24/14 -
Well, JP...
5/24/14 -
There is no...
Cirque du NBA
5/24/14 -
Yes, exactly...
5/14/14 -
Sterling may be...
5/13/14 -
You have a...
Obama milestones
4/29/14 -
Unfortunately JP...
4/27/14 -
But bad as he is...
Betrayal
4/19/14 -
It is a study...
Honor
4/18/14 -
Each year...
About this website
4/13/14 -
Just curious...
9/3/13 -
Stop sending...
8/2/13 -
Hi there!
RICO and the Democrat Party
3/29/14 -
Yep. BTW...
3/28/14 -
Hey - this is weird...
60–40
3/27/14 -
Hurrah!
Breaking compacts
3/20/14 -
Well done.
3/16/14 -
Read your bible...
3/16/14 -
It's said that...
You get what you pay for
3/13/14 -
It would be good...
3/13/14 -
I thanked...
1/4/14 -
Let's not forget...
John Kerry and Global Warming consensus
3/13/14 -
Talk about...
2/22/14 -
The Obamunists...
Daily Dose 2/15/14
2/17/14 -
This administration...
Daily Dose 2/9/14
2/9/14 -
Looks like...
Daily Dose 2/8/14
2/9/14 -
I think...
2/9/14 -
Meanwhile...
2/9/14 -
Interesting...
Big fat liars
2/9/14 -
I think Christie's...
2/9/14 -
Anyone with...
2/1/14 -
Wouldn't it be...
Mitt Romney, Mormonism, and the big freeze out
2/8/14 -
Perhaps it...
1/31/14 -
Why does...
Daily Dose 2/2/14
2/3/14 -
Here's the...
2/2/14 -
Here's my...
Daily Dose 1/25/14
1/26/14 -
Seems like...
Are liberals butt ugly or what?
1/26/14 -
Hello, I was...
Watching Lone Survivor with a WWII infantryman
1/24/14 -
Jim....what a...
1/24/14 -
I love this! ...
1/23/14 -
Jim, Your story...
Attrition of joy
1/18/14 -
Headline...
The Barack Obama work ethic
1/11/14 -
In my opinion...
1/11/14 -
Just some facts...
1/11/14 -
Considering what...
1/11/14 -
Vacation as Usual...
1/11/14 -
He's been lazy...
Disgust and despair: the Paul Ryan budget
12/24/13 -
To me this...
12/17/13 -
The nerd in me...
12/15/13 -
WOW JP, how...
Losing World War II
12/11/13 -
Bill Gates is...
12/7/13 -
J.P.- this...
America's first experiment with communism
11/26/13 -
Happy Thanksgibbletting.
11/23/13 -
What are you...
11/23/13 -
Great article...
Oprah overplays the race card
11/23/13 -
Oprah has...
8/17/13 -
...a rodeo...
Incorrect promises and noble lies
11/23/13 -
Even if...
11/18/13 -
I am a good...
11/16/13 -
We may yet...
Big lies
10/21/13 -
Totally disgusted...
10/20/13 -
Hey, JP...
Issues
J.P. elsewhere
Subscribe
Favorite links
Sitemeters
Travelyn Publishing